Who "Nose"?  A Dog Knows!
As a follow up to our awesome Summer Reading Program, the Coatesville-Clay Township Public Library presents:
The Dog's Nose Knows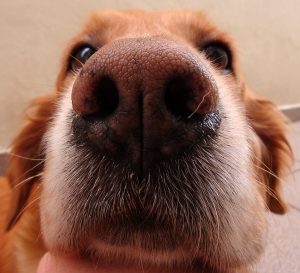 Wednesday, July 19th
Meet at 1:00 – 1:45
The program is FREE for any child entering grades 1-6 this Fall.
Explore how dogs use their sense of smell.
Play a game using only your nose to guide you.
Read a story about how a dog uses his sense of smell.
The program will be presented by Randall Corn of Amo.
For 33 years, Mr. Corn has taught high school English and served as a high school administrator. He owns Bow-Wow Walkers, providing dog-walking and pet-sitting services to residents of Hendricks County.  He and his wife have two beagle-mix dogs named Lillie and Buddy.
Party Like An Animal!  Summer Reading Program
Sure, winter still tries to hold on in west central Indiana, but let's put it to rest for good for 2017 by planning for our Summer Reading Program.  These year's theme is "Animal Friends."
We will meet on Wednesdays June 7, 14, 21, and 28 and on July 5.  We will have a super fun combined party to wrap up the program on July 12 at 1:00pm.
MEETING TIMES:
Those entering:  Grades 1 – 3   meet at 1:00 – 1:45
Grades 4 – 6   meet at 2:00 – 2:45
Readers of all ages will discover that there are many fascinating and amusing fictional animal characters in popular children's books, as the Coatesville-Clay Township Public Library presents "ANIMAL FRIENDS" during their summer reading program.  Activities will include: stories, games, crafts, snacks, and more!
THE PROGRAM IS FREE FOR ANY CHILD ENTERING GRADES 1 – 6 THIS FALL!
Our goal this summer is to read entertaining books for pleasure and enjoyment. Our second goal is to read a combined total of 100 books from the Coatesville-Clay Township Public Library. If we reach our group goal of 100 books, we will have a special surprise during the party on the 12th, as well as our traditional BINGO game.
Each child will have a journal to record library books read during the weeks of the program. They need to bring the journal with them to the circulation desk each week to get credit for the books read.  For each book read, they will get a bead to add to their animal book mark. (No journal means no beads, so don't forget to bring them!)   Let's have a great time reading fun books!
The children need to read books at their own reading level and record the title and author's name in the journal. Parents may help younger children who are just learning to read and write.  We want to demonstrate that one can read for fun and pleasure, so encourage them to choose books that they will enjoy reading.  We have lots of fabulous fiction books, so it should not be too difficult.  If you run out of space in the journal, it is okay to tape a piece of paper to it and record the books on that.
Let's have record attendance this year!
State Park Pass – Held Over into 2017
Planning your family trips?   In celebration of 100 years of the state parks system, we have one 2017 Indiana State Parks Pass available for our patrons to borrow at no charge.
The loan period is limited to 7 days with no renewal and a late fee of $1 per day.  This pass MUST be checked out and reserved at our circulation desk and cannot be reserved on-line.
Want to be a Friend?
The Friends of the Library welcome you to join them.  If you believe in the power of reading and the importance of library programming, then please consider joining with a small annual donation or remember someone through a legacy gift.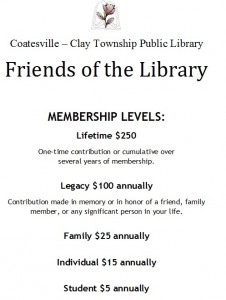 Visit us on Facebook at Coatesville-Clay Township Public Library.