Happy New Year
Welcome to 2018.  You made it!  We are thankful to you, our patrons, for welcoming our new director, Korleen Bledsoe, and the well-wishes to now retired Cheryl Steinborn.  We also want to wish long time assistant Kathy Arnold a happy, happy retirement as she moves on effective January 1.  Thanks to both of these ladies for their tremendous service.  Turning the page on a new year also welcomes Jill Harris to take on the responsibilities of Kathy Arnold as well as continuation of her custodial duties.  We are so happy to welcome Jill to her additional role.
This new year also brought the departure of Judy Dunlap after many years of tremendous service on the Library Board of Directors.  Judy is a selfless giver with a passion for our community.  She will remain active at the Food Pantry and around town, but we will greatly  miss her.  In her place, we welcome Marcy Shepard to the Board and look forward to great contributions from her.
We encourage you to come in to the library to grab a book, download an e-book, or check out a DVD to take home to stay WARM in these arctic temps.  Remember, if the schools close due to weather, so does the library.  Otherwise, normal hours.
Come see us!
2018 Budget
Per state regulations, information about the library budget can be found at the following location:
http://budgetnotices.in.gov/ReportMaster.aspx?uid=973&yr=2018&mode=ALL
State Park Pass – Held Over into 2017
Planning your family trips?   In celebration of 100 years of the state parks system, we have one 2017 Indiana State Parks Pass available for our patrons to borrow at no charge.
The loan period is limited to 7 days with no renewal and a late fee of $1 per day.  This pass MUST be checked out and reserved at our circulation desk and cannot be reserved on-line.
Want to be a Friend?
The Friends of the Library welcome you to join them.  If you believe in the power of reading and the importance of library programming, then please consider joining with a small annual donation or remember someone through a legacy gift.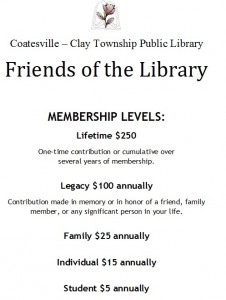 Visit us on Facebook at Coatesville-Clay Township Public Library.