Summer Reading Program – Rock On!
Can you believe school is almost over for the 2017-18 year???  Wow!  But your kids STILL love to read.  So bring them on by the library for our world famous Summer Reading Program!
"LIBRARIES Rock!"
2018 SUMMER READING PROGRAM
Music and musicians are fascinating, and there are many wonderful books with music themes. This year's 2018 Summer Reading Program will focus on music and musicians, as the Coatesville-Clay Township Public Library presents "LIBRARIES ROCK!" Activities will include stories, games, snacks, and lots of fun!

The 2018 Summer Reading Program is open to all children who will be going into grades 1 – 6 in August. The FREE weekly program will be held on Wednesdays, June 13, 20, 27, July 11, 18, 25. Children going into Grades 1 – 3 will meet from 1:00 – 1:45 pm and Grades 4 – 6 will meet from 2:00 – 2:45 pm on those dates.

Registration begins May 11. We will have special prizes for the first 20 children to sign up. For more information, stop by the library, call the library at 765-386-2355, visit us on FACEBOOK.
2018 Budget
Per state regulations, information about the library budget can be found at the following location:
http://budgetnotices.in.gov/ReportMaster.aspx?uid=973&yr=2018&mode=ALL
Want to be a Friend?
The Friends of the Library welcome you to join them.  If you believe in the power of reading and the importance of library programming, then please consider joining with a small annual donation or remember someone through a legacy gift.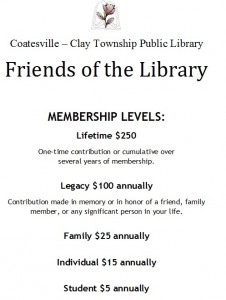 Visit us on Facebook at Coatesville-Clay Township Public Library.