Story Time Returns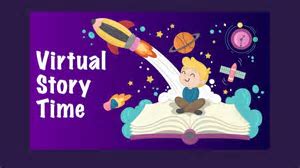 Story time is BACK for our 3-5 year-olds on Tuesdays from 11:30am to 12:15pm, beginning September 8.  It will be a little different this year as it will be online.  Stop by the library each week to get your craft packets and tune in to read with Mrs. Gerbick and virtual crafting.  
Normal Operating Hours 
We have returned to normal operating hours, but you will notice some changes and we ask for your cooperation.
Our staff will be wearing masks and will frequently sanitize surfaces for the safety of patrons and staff.  
The State of Indiana has a facemask requirement effective Monday, July 27, for all individuals ages 8 and up.  Patrons are expected to comply.  If for some reason you wish not to wear a mask or it creates medical difficulties, you can still receive curbside service but you cannot enter the building (see below).
Sanitize or wash your hands frequently.  Touchless faucets have been installed in the public restrooms to minimize chances of contact with others.  A hand sanitizer station is available for public use and we encourage you to take advantage of it.  
Use of public computers will be allowed, but keep in mind these are PUBLIC computers and available to all patrons.  The computers will have keyboard and mouse covers to allow for easier cleaning.  It is recommended you bring your own headphones.
The public meeting room is closed for rental until further notice.
If you have a fever or suspect you have been exposed to Covid-19, please do not come into the building.
Late fees on materials will resume as normal.
While this list may read as unwelcoming, these are unprecedented times and we want to make "normal life" as safe as possible for all.  We are happy to welcome you back, but you may not see our shining smiles behind our masks!
Still want curbside service?
• Call (765) 386-2355 or place items on hold using our online catalog at https://coatesvillectpl.lib.in.us
• You will receive a notification (call, text, or email) when your items are available to be picked up.
• Drive to the library and park under the awning between the outdoor dropbox and the entry doors.
• Call (765) 386-2355 or text (765) 331-1973 when you arrive.
• Open your trunk or the window of an empty passenger seat for us to place your bag of materials; stay inside your vehicle.
• We will bring your materials out as soon as possible.
• Enjoy!
• When you are finished with your materials, please return all items to the outdoor dropbox.
*Please understand that for your protection and that of our staff, we will maintain appropriate safe social distancing measures.
Evergreen App!
Guess what? Now we can officially say "There's an app for that!"
Evergreen Indiana now has an official app for your Android and iOS devices. Once the app is downloaded to your device and you have logged in, you can use this new app to place hold requests, see what items you have checked out, search the on-line catalog, check on fines, and receive library information (hours, phone number, address). The app will also store a digital library card replica so you will always have your library card number with you as long as you have your device.
Android devices: https://play.google.com/store/apps/details?id=net.kenstir.apps.indiana
iOS devices: https://apps.apple.com/us/app/id1511341933
If you have difficulties logging in, or if your password needs reset, please call us (765) 386-2355 and we will be happy to assist you.
Story Time On Hold
Note:  Story Time is suspended until schools are back in session.  Updates will be posted here.
Story time is back for our 3-5 year-olds on Tuesdays from 11:30am to 12:15pm.  We have a new coordinator with exciting ideas just waiting to engage your kids in stories and crafts.  It's an easy walk across the street for those Coatesville Christian pre-schoolers.  Come on in and join the fun and tell your friends.  Rumor is more kids are joining every week! Libraries open up a whole new world you can't replicate on-line. 
Check out our ever changing collections
Hurry in to see our always changing collection of books and DVD's.  Visit the Catalog page to see what is added each month.  There's something for everyone!
Library Board Meetings
The Coatesville-Clay Township Public Library Board meets the second Tuesday of every month in the Community Room at the Library.  Start time is 5:30 pm.
Past Meeting Minutes
Budget Adoption Meeting – October 2019
February 2018 Library Board Minutes – Copy
January 2018 Library Board Minutes – Copy
Visit us on Facebook at Coatesville-Clay Township Public Library.