Join us for our Annual October Oddities celebration!
Annual Budget Proposal
Here is a link to the annual library budget proposal.  The library board of directors appreciates your ongoing support.
We are doing a trial run of new hours beginning August 6 and running into early October.  In order to better accommodate parents and little ones, we are going to be open on Monday and Tuesday at 10:00am instead of 1:00pm.  We hope this will make it easier for our pre-school age kids to get into the library before nap time!
Want to be a Friend?
The Friends of the Library welcome you to join them.  If you believe in the power of reading and the importance of library programming, then please consider joining with a small annual donation or remember someone through a legacy gift.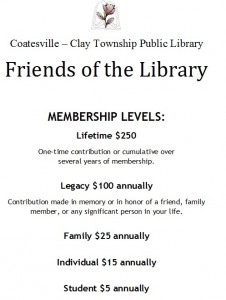 Visit us on Facebook at Coatesville-Clay Township Public Library.